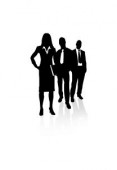 Wouldn't it be nice to make the recruiting process run smoother both for the candidate and for yourself? Well, looking ahead into the future, we will see new trends starting to develop in order to move closer to this process. Here are five HR trends to look out for in the near future.
Interview screening with a video chatAfter hundreds of resumes are submitted to a company, the first step is usually phone screening; a quick 10 to 15 minute call asking some basic questions to see if they truly are who they say they are on their resumes. With the ever so popular smartphones and the enhancement of video chats, companies will be able to call candidates out of the blue for an unexpected video chat.
Recruiters will have easy access to a candidates social networking pagesSocial networks all come with their own privacy laws, but recruiters are still searching Facebook, Twitter, and other networks to see if your information is out there for the world to see. Even doing a Google search of your name is a common way to search for information. Soon recruiters aren't going to have to do these searches. A candidate's information will be included in the application whether you like it or not.
Candidates will see where they are in the application processWith hundreds of resumes received, it can be hard to notify each individual candidate who did not get the job. It can be a very frustrating process for the candidate who expects to hear back from everyone. Companies will soon have an automatically generated process to show a candidate where they are in the application process. It will show them if their resume has been viewed and if any progress has been made on finding the right candidate for the position.
Recruiters will administer pre-employment testingWouldn't it be nice to know a candidate's skill set before he or she got hired? You can never be too sure on the skills that are placed on a resume until they are put to the test. HR departments are starting to lean towards pre-employment testing software. This will allow companies to make sure that the certain skill placed in the job description is met. Why not try TestUP!
The experience of applying to a job will become more interactive
The problem with applying to jobs nowadays is that candidates only have the ability to view the job description and whatever information that company has on its website. Who knows what the job really might entail? HR departments will soon have a more interactive job description online where candidates can view testimonials and videos of what they can be expecting in the job.