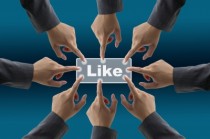 Facebook is not just America's favorite social network, but also America's favorite workplace. In the latest fifth annual Employees' Choice Awards, a list of the 50 Best Places to Work unveiled by the online jobs and career community Glassdoor, Facebook, the social media giant, was named the best company to work for in 2013.
"The Employees' Choice Awards are one of the highest honors a company can receive, as it is an authentic and tangible reflection of employee satisfaction," said Robert Hohman, Glassdoor CEO and co-founder. (Glassdoor.com)
With an overall company rating of 4.7 out of a possible 5, this is not Facebook's first time being ranked as a top employer. In 2010, the first time Facebook participated in the comparison, it received the highest rating as the best company to work for in 2011, and it was among the top three in the 2012 Awards.
Three reasons could be attributed to why many job seekers want to work at Facebook: the great incentive system, the huge global influence of the company, and the tightly collaborative internal culture.
Great Incentive System
A well-set incentive system helps spur innovation, which is a priority for many companies, especially the high-tech ones. Facebook offers its employees great perks and benefits to assist them in balancing their work lives with their personal lives. Such benefits include: paid vacation days; free meals, snacks, laundry, and transportation; four months paid parental leave for new and expecting parents, $4,000 in "baby cash," adoption and day care reimbursement; photo processing; and last but not least, the prospect of becoming millionaires.
Facebook's Huge Global Influence
Obviously, the prospect of becoming millionaires is not the only reason technology elites are attracted to Facebook. In the web 2.0 era, social networks are at the center of the world and as the world's largest social networking company, Facebook is changing not only the way people get in touch with each other, but also the way information and messages are disseminated. Facebook is the rule maker of Web 2.0 communication and genii who work in the heart of that world gain the satisfaction of creating something unprecedented and innovative; impacting the way of life of a billion people, and asking questions never before asked.
Tightly Collaborative Internal Culture
Facebook's comfortable and equitable work environment is appreciated by many employees. According to the reviews shown in Glassdoor's Employees' Choice Awards report, employees mentioned the equal opportunity at Facebook for everyone to be recognized and rewarded when they make a big impact, regardless of their job title or level of experience. They also liked the employee collaboration structure, saying teams are small and autonomous.
"Facebook is full of extremely capable and smart people," commented a Facebook product manager. "The lines [in the chain of command] are very short, and it's easy to get a hold of the right person to talk to on any topic. There's no red tape, so it's really up to you to have a big impact on the product and the world." (Glassdoor.com)
"Teams always switch seats so there's a high chance you can sit a few feet away from Zuckerberg and Sandberg and these famous people. The motto is to move fast and stay focused," said a former Facebook software engineer in Glassdoor's report.
In its profile on Mark Zuckerberg, Time Magazine describes Facebook as "a rolling tundra of office furniture [… with] no cubicles, no offices, [and] no walls." Neither the COO nor the CEO has an office, and the employees trust in said CEO, Zuckerberg.
It may be hard to imitate Facebook's technology development model, but the way Facebook treat its employees could serve as a successful corporate management model and an example to other companies.
Image courtesy of Vichaya Kiatying-Angsulee / FreeDigitalPhotos.net
>