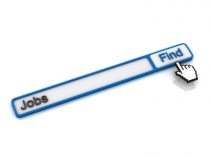 As if it weren't already the Swiss-army knife of all social networks, Facebook adds on yet another function to its laundry list of features: "Social Jobs". Facebook teams up with the U.S. Department of Labor, the National Association of Colleges and Employers (NACE), DirectEmployers Association (DE), and the National Association of State Workforce Agencies (NASWA) in a partnership aimed to help America's unemployed find jobs with the help of social media. The idea behind using social media to advertise employment opportunities is its potential for widespread influence; since Facebook is such a high traffic website, employers have a better chance of finding the perfect fit in such a large pool of potential candidates. The Facebook Social Jobs page features a search bar similar to those on other job search websites. The user fills in keywords and chooses specific job categories, and then the system finds open positions that match the user's request. Facebook combines information from other renowned websites' databases. This is in line with its goal of becoming a one-stop, all-encompassing resource.
Facebook boasts a huge database of active users who constantly receive advertisements and promotions specifically targeted and tailored to their individual needs and interests (my Facebook ads include photography classes and credit unions). Since it has such a large user base, Facebook can effectively use the information gotten from said users for research purposes to better serve them. It can use Social Jobs to fine tune employment listings to appeal to each individual's specific career interests. With over 1 billion users, Facebook has a relatively large reach over a potential market segment. Other services have caught on and integrated some of their business operations with Facebook. For example, it is now widely popular for websites to give customers the option to sign in using their Facebook account. Although this system makes life a bit easier for users, it is even more beneficial to businesses as it allows for sharability. These businesses gain access to user accounts and can post on their behalf. When other users then see posts like "Fred is listening to Thrift Shop on Spotify," they naturally get curious and want to find out more about Spotify (peer pressure meets word of mouth marketing). It seems almost impossible to avoid using Facebook for at least one or two other applications. You can search through your Facebook contacts for new people to follow on Wanelo, and other social apps and websites. Furthermore, if you're job hunting, the more viable outlets there are to find employment, the better.
All the services provided by Facebook seem like just another way to make our lives streamlined and more efficient. We can go to Facebook to keep up with friends, listen to music, play games, and now even to get jobs. Could going to only one source for all of our social and online needs somehow become negative? With so many users, and share holders (seeking a return on their investment), can Facebook be trusted to keep all our information safe? What do you think?
Image Courtesy of Master isolated images / FreeDigitalPhotos.net