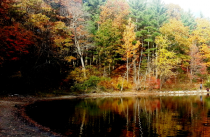 Unbelievably, it is Thanksgiving time already. Some colleagues are already gone, headed off in various directions to gather with family and friends, eat too much good food, and watch too much football. Personally, I feel as if I just carved my pumpkin. And I still have Halloween candy. Admittedly, it's that junky candy that always lingers too long because no one likes it. But still. How can it be Thanksgiving tomorrow?
It's quiet here today, which is a serious change from the usual hustle and bustle as we all strive to finalize the day-to-day details that go into building a website. I find my eye caught by the background image on my computer screen – it's a restful photo I took on a recent visit to Walden Pond. Being in the Boston area, we are blessed with a ridiculous bounty of picturesque spots steeped in history – and Walden Pond seems particularly apropos at this time of year.
In 1845, at the age of 28, Henry David Thoreau built a cabin at Walden Pond, located just outside Concord, Massachusetts (about 20 miles west of Boston). It was his intention to write a book, but also to live a life devoted more to contemplation than worldly pursuits – an ideal close to the heart of the Transcendental movement that was developing at the time. Thoreau lived at the cabin for a little over two years, writing, reading, and "sauntering" in nature.
Many American school children are introduced to Thoreau as a cranky, antisocial hermit, but this is a characterization that does the gentleman a grave injustice.  While he may not have rushed to participate in group activities or organized movements, he was intensely close to his brother, John, enjoyed a deep friendship with Ralph Waldo Emerson, and lived in his parents' home for most of his life. He was an ardent abolitionist and was devoted to the ideal that each person come to understand and express his individuality regardless of social constructs. To each his own.
Today, a visit to Walden Pond is seldom solitary. The narrow path around the pond leads many, many tourists in and out of the shade, up and down the hills, each bend offering a new vista across the pond. The little beach bears children picking stones and artists at their easels. The tiny (replica) cabin is never isolated. And yet… And yet, Walden Pond remains a place of peace, a place where contemplation is possible. Visitors speak quietly, children explore without running amok. There is no honking of horns, no roar of motorboats. There are no souvenir kiosks, no people dressed in giant animal costumes. There are rocks and logs that make perfect seats for reading or meditating. There are trails through the woods and trails that lead to the beach. The brave can dip toes in the icy water and feel the pebbles under their feet. To each his own.
"All men are children, and of one family. The same tale sends them all to bed, and wakes them in the morning." – HDT
I'll be spending tomorrow with family.  There will be turkey and stuffing and green beans and pie. There will be football and talk of politics and children making funny faces. It's how my family rolls. My friend Ana will attend church tomorrow morning, followed by an afternoon volunteering at a nursing home and an evening at the movies with her friends. It's how she rolls. And you? However you choose to roll, I hope you are able to find a moment to reflect on the day, to enjoy solitude even when you are not alone, to appreciate the individuality of those around you as you come together in common celebration. To each his own.