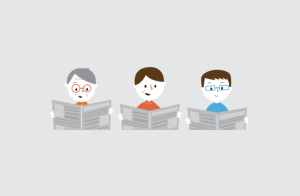 The baby boomers, generation X's, and generation Y's all have differences in their working habits and should be treated differently within the workplace; especially when it comes to hiring. Depending on the different generation, the employer has to attract him or her to their business based on that generation's working style and habits. Establishing a hiring process generated for the different generations not only can increase productivity, but also increase job retention.
The baby boomers are known to be loyal to one job and have a longer job retention. The baby boomers are people born between 1946 and 1964, who make up about 20% of the American public. This is a large portion because after World War II, there was a spike in the birth rate. They appreciate having stability within their workplace and remain loyal to their employers. They tend to prefer an organization that has a strong sense of community and one that has a lot of support within the organization.
People who are a part of the generation X are typically attracted to organizations that provide a stable and flexible work environment. The generation X includes people who were born between 1965 and 1980, and make up about 48 million Americans. Most of them are now reaching into their 30's and 40's and over 60% of them attended college; which makes them more educated than the baby boomers. They tend to appreciate autonomy and freedom within the workplace. Generation X's also are usually attracted towards jobs that provide them with a lot of life balance and time to have fun within their work activities.
Generation Y's , or the millennials, are more fitted to work in teams; they like collaboration. The millennials are people who are born between 1980 and 2000 and are just starting to emerge in the workforce. This is a fast growing population in the workforce and organizations need to learn how to fit their needs. Not only are they team oriented, but they also are very achievement based. Unlike the baby boomers they are not likely to stay at one job their entire life; which makes job retention more difficult. They do not enjoy meaningless and busy work; they enjoy productive jobs.
A good recruiter must be able to identify all of these differences in order to effectively hire and retain their employees. They also cannot rely solely on benefits in order to make these generations happy. Recruiters and employers should be able to adjust the way that they treat and manage each of these different types of generations. However, we still have to remember that not everyone is the same and that it is important to really get to know each employee and how they like to be managed. This may seem like a rigorous and time-consuming, but it will surely increase productivity.
http://legalcareers.about.com/od/practicetips/a/GenerationX.htm
http://www.investopedia.com/terms/b/baby_boomer.asp