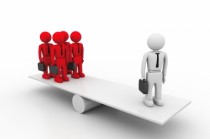 The effects of a bad hire on a firm can be devastating. Not only does a poor hiring decision result in wasted time and money, it can be detrimental to morale in the workplace. A recent Robert Half International study in which over 1,400 CFOs were surveyed found that 35% of participants felt morale was "greatly" affected by poor hiring decisions. The CFOs also concluded that supervisors spend 17% of their time overseeing incompetent employees. That's almost one day per week!
Image courtesy of renjith Krishnan / FreeDigitalPhotos.net
Fortunately, hiring poor performers does not have to be inevitable. Here are 6 steps to follow when making your next hiring decision that will lead you toward selecting the right candidate:
Get Input from Others: Ask trustworthy coworkers or other managers what traits they think your ideal candidate should possess. Also, consider bringing in an outside recruiting firm with specialized knowledge in your field to help you oversee the hiring process.
Know your Candidate Personally: During the interview process, ask questions that will help you determine the character of your candidate. You should feel confident that the candidate's personality fits your work environment when making your decision.
Reach out Right Away: Once you have identified the best qualified candidate, make it a point to offer them the position immediately. Hesitate for too long and your dream candidate might accept another offer.
Don't Low-ball the Candidate: Offer your candidate a reasonable compensation package that meets the market standard. Keep up to date with current salary trends by studying resources like Robert Half's 2013 Salary Guides.
Recognize Necessary Skills: Make a note of which skills are mandatory for the open position and which skills can be acquired over time. Hone in on the candidates that possess the former. Remember, you are looking for the candidate that has the necessary skills and the right characteristics for your work environment.
Use a Pre-Employment Test: Save time and money during the hiring process by testing candidates on the skills necessary for the position through an online pre-employment assessment. Pre-screening tests will allow you to quickly determine whether a candidate's resume assertions are valid or not. Customized pre-employment tests are available for a wide range of industries, providing an easy and affordable way of finding the candidate that has the specific set of skills you are looking for in an employee.